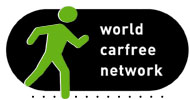 Les nouvelles "World Car Free News" sont publie, grâce a ce bulletin électronique mensuel, vous pouvez vous tenir au courant de ce qui se passe dans le monde carfree [sans bagnole, libéré de la bagnole]. Ce bulletin est disponible dans cinq langues (tchèque, anglais, français, espagnol et allemand). Chaque bulletin est plein de nouvelles et d'annonces du mouvement de libération de la bagnole.
The new World Carfree News are out, you can find them in this article and on the website of the "World Car Free Network"
The bulletin is available in five separate language versions (Czech, English, French, Spanish and German) with three new versions to begin in the fall of 2008 (Hungarian, Russian, Turkish). Every bulletin is packed full of the latest news and announcements from the carfree movement.